Event

Not only sport at the AronaMen 112.9 Triathlon

from 24 July 2011
Arona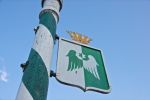 One month left to the inaugural AronaMen 112.9 Triathlon. Arona, on the shores of Lake Maggiore in Italy, will host the first edition of this half iron triathlon event.
And the beautiful location of Lake Maggiore is undoubtedly one of the strengths of this event: sport, but also marvellous places to visit, whose beauties and charm are renowned all over the world. Well, then…why don't you think to join your race to a weekend of relax and tourism?
The organizers made special agreement with the local hotels to offer the athletes, their families and friends low prices and better enjoy their stay in Arona and Lake Maggiore. Special agreements with some restaurants as well!

Contact
AronaMen
E-mail:
Web:
http://www.aronamen.it