Event

Relaxing under the stars

from 19 March 2011 till 18 June 2011
Premia (VB)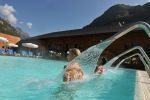 Starting from the month of March the Termal Baths of Premia propose four "not to be missed" appointments, four nights in which the thermal pools will remain open until midnight.
You can relax in the outdoor pools, admiring the surrounding landscape and the beauty of the sky.
Here are the dates: Saturday 19th March, 16th April, 14th May and 18th June. During these four evenings a new spa centre will also open.

Contact
Terme di Premia
Web:
Tel.: +39 0324 617210