News

Lago Maggiore Marathon
The first edition is scheduled for 16 October 2011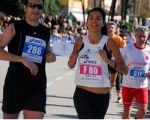 The registration for the first edition of the Lake Maggiore Marathon is officially open from today.
The marathon (from Arona to Verbania Pallanza) is organized by Sport PRO-MOTION and is scheduled for Sunday 16th October 2011.
The initial cost of registration is €35, but it will gradually increase approaching the day of the race.
All information relating to the race is available on the web site www.lagomaggioremarathon.it.

Contact
Sport Pro-Motion
Web: