Event

Pombia: history and legend

from 22 January 2011 till 23 January 2011
Pombia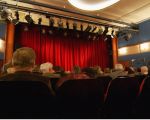 Pombia, a small town in the province of Novara, is ready to host a series of interesting cultural events: prizes, poems, plays and much more.
The events begin on Saturday 22nd January at 4 pm at the Teatro del Centro Sociale in Via Garibaldi, where Andrea Del Duca - writer and archaeologist - will be the protagonist of an interesting debate. Readings by Fulvio Julita. Free admission.
Sunday 23rd January the theatre will host "Firmin: Adventures of a Metropolitan Lowlife" - novel by Savage – followed by the prize giving ceremony of the thirteenth poetry competition "Poeti in erba".

Contact
Comune di Pombia
Web:
Tel.: +39 95 333 0321