Point of interest

Villa San Remigio
Verbania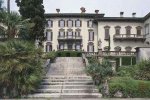 Villa San Remigio on the Castagnola Hill in Pallanza has a marvellous view of Lake Maggiore. It is set in extensive grounds among flowers and antique statues, close to the little Romanesque Church of San Remigio (12th century), which gives its name to the villa.
Built at the beginning of the 20th century, the Villa owes its existence to two lovers determined to create their "dream garden": the Marquis Silvio della Valle di Casanova, a Neapolitan poet and musician, and his wife, the Irish painter Sophia Browne. The couple were inspired by the great Italian villas of the Renaissance and Baroque periods to create a place where art and natural beauty might coexist in perfect harmony.
Flights of steps, avenues and narrow passages, with sudden glimpses of the splendour of the lake, lead to the garden of the Hours, recalling memories of happy times past, the garden of Joy, full of bright colours, the garden of Sadness, a shadowy representation of melancholy, the garden of Memories, symbolising nostalgia for the past, and the garden of Sighs, where the spirit merges with the surroundings. Finally there is the Hortus Conclusus, next to the little Romanesque church of San Remigio, with its intimate atmosphere of meditation.
The park is embellished with fine statues and ornamentation that add their beauty to the majestic trees of a variety of species, some of them rare. The house has a complex plan, with spacious rooms and fine furnishings. The façades are in Lombard Baroque style with projecting eaves. The balconies on the north-east and south-east sides of the house, from where there is a marvellous view of the lake, are supported by a stone tunnel with porticoes.
Today the building houses the offices of the Province of Verbania; the gardens may be visited by appointment only. Civil marriages can be celebrated in the Villa by prior arrangement.

How to get there
By car: from the A26 exit for Verbania and continue for 12 km in the direction of Verbania. When you reach the second traffic light take the right fork for Pallanza, and when you get to the square with the Cinema Sociale, go straight on following the signs. Alternatively, go straight on at the traffic light, along the SS34; you will come to the Courthouse, on your left just after a large roundabout (the second). Turn off to the right 350 metres after the Courthouse for Villa San Remigio.
By train: the nearest railway station is Verbania-Pallanza. From here you can get a bus to Pallanza.
Further details
The gardens of Villa San Remigio are temporarily impracticable
Contact
| | |
| --- | --- |
| Name | Villa San Remigio |
| Address | Via S. Remigio, 22 - Verbania Pallanza (VB) |
| Phone number | +39 0323 504401 |