Point of interest

Sanctuary of San Salvatore
Massino Visconti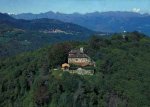 The Sanctuary of San Salvatore, at Massino Visconti is a mystic place, enveloped in a mantle of beech and birch woods through which the sun's rays filter to illuminate the buildings that form the religious complex. The square dominates the lake and offers a splendid panoramic view.
It was the Benedictines that built the first abbey in about the year 1,000 A.D, a building of a single nave with an apse that corresponded to the present left chapel of the church.
The Augustinians arrived in 1400, bringing the cult of Our Lady of the Girdle, and established themselves here for more than two centuries until they were replaced by a few hermits invited by the parish priest of Massino. The present architectural complex is an irregular building, probably both because of the slope which has forced the construction into a limited space and because of the continual rearrangements over time.
In the square, there are two chapels: the one dedicated to Saint Uguccione boasts frescoes of the 15th century. Other valuable frescoes can be seen in the other two chapels of the Sanctuary and can be reached by going down the "holy stairway" used by the monks for their religious services: the 12th century chapel is dedicated to Saint Quirico and the 13th century chapel is dedicated to Saint Mary Magdalene (now called the chapel of Saints Gioacchino and Anna). The church preserves a reliquary of saints and a countless series of 'ex-voto' (votive offerings).
How to get there
By car: exit the motorway at Brovello Carpugnino. At the exit, turn left in the direction of Massino Visconti. Once there, follow the indications that from the provincial road, via an ascent to the right of about 4 km, lead you to the Sanctuary.
By train: the nearest railway station is Lesa.