Point of interest

The Toce Falls and the Alpine lakes
Formazza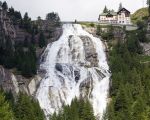 The waterfall regarded as the most spectacular in the Alps, the Toce Falls, is in the Formazza Valley at the place called La Frua (1861 m. a.s.l.). This is an excellent departure point for long hikes to explore the most beautiful Alpine lakes in the valley.
The water of this impressive natural spectacle falls for 143 metres, and spreads out at the bottom to a breadth of 60 metres. As the river is diverted to be used for hydroelectric power, the falls can be seen only on certain days and at certain times during the summer, from June to September.
A hotel built at the top of the falls in 1863 to accommodate climbers and hikers is still patronised by tourists to the area. The little church next to the hotel is dedicated to the Virgin of the Snow, and dates from 1621.
A number of trails start from the Toce Falls for the Alpine lakes of the Formazza Valley. The first lake encountered is the reservoir of Morasco, created by a dam; you can walk right round it along a pleasant track. Farther on is the Sabbione lake (2475 m), near which you can stop for refreshment or overnight at the hospitable mountain huts of Mores, Somma Lombardo, or Busto.
A long round hiking trip involves crossing the Gries Pass (2463 m) from Lake Sabbione into Switzerland, returning to the Italian side over the San Giacomo Pass (2313 m). On the return trip the trail follows the shoreline of Lake Toggia (2191m), whose waters are replenished from the higher Lake Castel (2244 m). On the way back down to the valley hikers can rest at the Maria Luisa Mountain Hut, a short way above the waterfall.

How to get there
By car: the A26 motorway continues as the Simplon dual carriageway. Take this road past Domodossola, following the signs for Crodo-Premia-Formazza.
Further details
Access:
Sunday 1 June from 10 am to 4 pm
9 June - 26 September:
Mon - Sat 11.30 am - 1.30 pm
Sun 10 am - 4 pm
9-20 August: from 10 am to 4 pm
15 and 16 August: from 10 am to 6 pm

Contact