Point of interest

Casa Bolongaro (Villa Ducale)
Stresa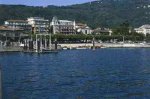 Casa Bolongaro, an eighteenth-century mansion also known as Villa Ducale, stands on Stresa lakefront in grounds of 13,000 sq.mt.

The interior is decorated with a number of frescoes on mythological subjects, accessed by a broad imperial staircase with pink granite steps and wrought iron handrails. Painted flower decorations and intarsia floors alternating with mosaic floors are a feature of Villa Ducale, testifying to the opulence of the period.
The gardens, originally laid out in the Italian style, have seen the addition over the years of exotic plants, among them a superb Magnolia Grandiflora and an imposing Cedar of Lebanon, also called "the tree of the gods".
The villa, which used to be surrounded by a garden which reached the lake shore, was built by a tailor from Stresa, Giacomo Filippo Bolongaro, who made his fortune by inventing a new mixture of tobacco. On his death in 1780, the property passed to his heir, Anna Maria Simonetta Bolongaro, a devout, charitable woman who formed a firm friendship with the Abbot Antonio Rosmini, a major figure in the history of the VCO province. Anna Bolongaro left the Villa to Rosmini in her will, and it became a prestigious meeting place for exponents of Italian and international culture. The Italian writer Alessandro Manzoni spent whole days here in the company of the priest-philosopher.
Later the villa became the property of Princess Elisabetta of Saxony, Duchess of Genoa and mother of the future queen of Italy, Margherita of Savoy; from then on it acquired its name of "Ducal", and for more than fifty years provided opulent hospitality to crowned heads, Italian and foreign princes, men of letters and artists. After the Duchess's death in 1912 the villa changed hands several times until 1942, when it once again became the property of the Rosminian Fathers, who undertook to restore the building after it had suffered severe damage in a fire.
In 1966 the International Centre for Rosminian Studies was inaugurated in the Villa. In addition to an extensive library of over one hundred thousand books, it has study rooms and a conference hall. The villa can be visited free of charge, at fixed opening hours.
How to get there
By car: from the A26 motorway exit at Carpugnino or Baveno. The Villa is easy to locate on Stresa lakefront, before the large historic hotels starting from the boat station.
By train: the nearest station is Stresa.
Further details
Stresa
Tourist Office
Tel. +39.0323.31308
info@stresaturismo.it
www.stresaturismo.it