News

Ascona Jazz Festival 2013
Discovering all the news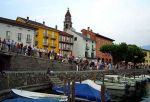 Waiting to celebrate the 30th edition of the Ascona Jazz Festival that will be held next year, the 2013 edition promises to be full of news and great names.
The main theme of this year edition will be the swing, the pulsating soul of jazz: It Don't Mean a Thing (If it Ain't Got that Swing) will be its motto.
The most important news concerns the new and innovative format that will revolutionize the festival programme: from Sunday to Thursday, in fact, the evening concerts on the lakefront and in Ascona historic centre will be completely free.
Another big news of this year edition is the Ascona Specials line up that will propose, in parallel with the free concerts, 5 appointments with jazz and international music top stars. Although the core of the festival will remain the jazz, its programme will be enriched with more well- known artists and personalities.
The pavillon of Piazza Torre will undergo a complete lifting thanks to a new structure, arranged to house 300 seats and to welcome the public.
Mario Biondi, out and out star of the soul, jazz and R&B scene, will open the Ascona Specials line up on Sunday, June 23.
The second guest of the Specials will be the great Brazilian singer Tania Maria, accompanied by her Viva Brasil Quartet.
Ornella Vanoni, great performer of the Italian song; The Blind Boys of Alabama, living legend of gospel music; and The Puppini Sisters, female vocal trio that embodies the swing and Forties a cappella style will be the other great names of the Ascona Specials.
In total the 2013 edition of the Ascona Jazz Festival will propose no less than 160 concerts over a period of nine days, ranging from traditional jazz to blues, from soul to gospel, from R&B to funk, from boogie woogie to the traditional sound of New Orleans.
All the information about the festival and its programme is available on the Ascona Jazz festival official website.
Contact
Jazz Ascona
E-mail:
Web:
http://www.jazzascona.ch/index.php/en/
Tel.: +41 (0) 848 091091