News

The more "active" week of summer
Festivals, events and nature trails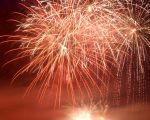 There are many events scheduled on Lake Maggiore, Lake Orta and Lake Mergozzo from 11th to 18th August 2012: fairs, festivals, fireworks, cultural and sportive events.
Among the events: Palio Remiero scheduled for Tuesday 14th August in Verbania, the Feast of San Vito, which will start on Saturday 18th August in Omegna or Fiori di Fuoco during which fireworks, as usual, will be the protagonists (August 11 in Verbania, August 14 in Santa Maria Maggiore and August 15 in Laveno Mombello).
In Ossola Valley, as tradition, on 15th August there will be the "Palio degli Asini" in Premosello Chiovenda with music, flavours and, of course, donkeys.
There will also be sporting activities, primarily the Baceno-Devero-Crampiolo Walk, scheduled for August 16, which is also an opportunity to enjoy nature in Alpe Devero.