News

Palio Remiero – 40th edition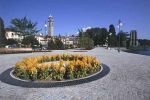 From 11th to 15th August, numerous events and performances will cheer up the lakeside of Verbania Pallanza, on the occasion of the 40th edition of the Palio Remiero, the unique nightly rowing race of Italy, which comes back on Tuesday 14th August 2012.
The evening will end with wonderful fireworks display.
Here is the programme of the five days in Verbania Pallanza:
11th August: Fireworks display from 9.30 pm ("Fiori di Fuoco");
12th August: from 10 am to 6 pm, international exhibition of airplanes models and flying demonstration; from 9.30 pm, music of Fazio's Band and entertainment;
13th August: live music with the Stone Fire;
15th August: "Nuotata all'Isola Madre" (swimming to Isola Madre) at 3 pm. Live music with Lavertis, from 9 pm in Piazza Garibaldi.

Contact
Municipality of Verbania
E-mail:
Web:
http://www.verbania-turismo.it