Event

Locarno Film Festival 2012

from 01 August 2012 till 11 August 2012
Locarno (CH)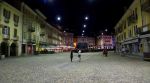 The Swiss town of Locarno celebrates, for the 65th consecutive year, the famous Film Festival, which is scheduled from 1st to 11th August 2012.
Piazza Grande is ready to host one of the largest screens in Europe which, as tradition, will attract over 8,000 spectators to give them one of the most beautiful open-air cinema in the world.
Every evening there will be a unique film event, with prestigious world premiere productions.
For the full programme of the Locarno Film Festival visit the web site www.pardo.ch
Contact
Locarno Film Festival
Web: