Event

Antonio Pedretti's works of art

At the Civic Museum Parisi Valle in Maccagno

from 14 July 2012 till 02 September 2012
Maccagno (VA)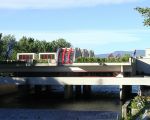 Saturday 14th July 2012 at 5.30 pm, at the Civic Museum Parisi Valle in Maccagno, there will be the inauguration of "Cortometraggi" (short films), which is the exhibition of the Antonio Pedretti's works of art.
A selection of thirty works, belonging to recent years, will be on show. The exhibition is sponsored by the Municipality of Maccagno and the Province of Varese.
Openinh hours:
From 15th July to 2nd September 2012, from Thuesday to Sunday, from 10 am to 12 pm and from 3 pm to 7 pm.
Free admission.

Contact
Civico Museo Parisi - Valle
E-mail:
Web:
http://www.museoparisivalle.it
Tel.: +39 0332 561202