Event

"Naviga con noi" - From Lake Maggiore to Ticino

from 05 August 2012 till 16 September 2012
From Arona or Sesto Calende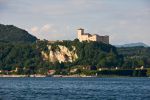 "Naviga con noi" (sail with us) is the name of a series of experimental routes organized by the Novara province, from Lake Maggiore to Ticino river.
There are four scheduled appointments: from Arona or Sesto Calende to Varallo Pombia (on 9th and 16th September) or to Golasecca (on 5th and 12th August). During the navigation a guide will illustrate the area.
Cost
Adults: € 25,00 (only 25 seats available per day)
Children under 4 years old: free.

Minimum of 10 participants.
Reservation required.
For more information and the programme visit the web site www.turismonovara.it or www.provincia.novara.it or contact Distretto Turistico dei Laghi.

Contact
ATL della Provincia di Novara
E-mail: