Event

Un Paese a Sei Corde 2012

Festival of guitar

from 26 May 2012 till 15 September 2012
Lago Maggiore e Lago d'Orta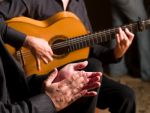 "Un paese a sei corde" is a festival dedicated to guitar, this year in its 7th edition.

Untill 15th September 2012, there will be numerous free concerts hosted by 14 towns in the provinces of Novara and VCO.

Some of the greatest interpreters of the world and young talents of acoustic guitar will perform, offering the best of their production in a programme of high level.

For the full programme, visit the website of the festival.
Contact
Associazione Culturale La Finestra sul Lago
E-mail:
Tel.: http://www.unpaeseaseicorde.it