Event

European Championship of Cicloscalata

from 22 July 2012
Gignese - Mottarone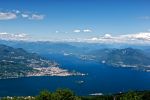 The fourth edition of the MTB race Gignese - Mottarone, organized by AVIS of Stresa with the cooperation of Funtos Bike and ACSI Udace of Verbania, is in programme for Wednesday 27th June 2012.

Departure: Gignese, 10 am
Arrival: Mottarone top, Hotel Miramonti.
The presence is to be confirmed by Wednesday, June 27, 2012.

Contact
Avis Stresa
E-mail:
Web:
http://www.avistresa.it
Tel.: +39 366 6353814