News

LetterAltura 2012 - Sixth edition
The festival starts in Cossogno - 23/24 June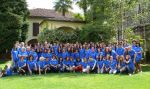 LetterAltura is an event not to be missed: 55 events - meetings with authors, performances and creative workshops - and more than 60 national and international guests.
As tradition, LetterAltura will develope several themes and will give great attention to kids, with readings, specific meetings and special initiatives designed for them - for example climbing wall in Crodo.
Among the guests: Luis Sepulveda, Paolo Rumiz, Pino Cacucci, Cristiano Cavina, Andrea Molesini, Eddy Cattaneo, Marco Albino Ferrari, Marco Revelli, Pap Khouma, Laura Pariani, Benito Mazzi, Angelo Del Boca, Marco Paolini, Têtes de Bois, Ermanno Salvaterra, Maurizio Giordani, Margherita Hack, Krzysztof Zanussi, Michele Trentini, Hilaire Dumoulin and Giovanni Kezich.
LetterAltura begins in Cossogno, on 23rd and 24th June.
Following:
Verbania

28th June - 1st July
Antigorio Valley (Baceno and Crodo)
7th - 8th July 2012
Lake Orta (Ameno and Miasino)
14th - 15th July 2012
Macugnaga
20th to 22nd July
For the detailed programme of the festival, visit the website www.letteraltura.it.

Contact
Cultural Association LetterAltura
Web: