News

International Day for Biodiversity
Sunday, May 20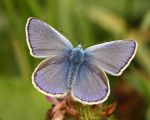 In order to celebrate the International Day for Biodiversity 2012 The Brabbia Marsh Nature Reserve organizes many events, dedicated to adults and children, for Sunday 20th May 2012.
From 9.30 am to 2.30 pm
Butterflies, dragonflies and bees: guided tour
2.30 pm
A home for the ladybird
Workshop for children (7/12 years old).
2.30 pm
Sbarluffo, the funny spider
Fairy tale for children (4/6 years old)

Reservations required.
€ 5 for adults, 3 € for children from 7 to 13 years old, free for children until 6 years old.
Workshop € 12
In case of rain, the events will be postponed to Sunday, May 27.

Contact
Riserva Naturale e Oasi LIPU Palude Brabbia
E-mail:
Web:
http://www.lipu.varese.it