News

Arona Express
Panoramic Train of lower Lake Maggiore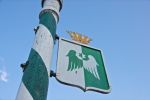 There's a great news for the 2012 tourist season in Arona, beautiful town of lower Lake Maggiore located on the western shore of the lake.
We're speaking about the Arona Express, a little train that offers five daily routes and three stop stations for a day of breathtaking sceneries to admire from a unique point of view.
The total duration of the trip takes about 30 minutes, during which we can see the famous statue of Sancarlone - Colosso di San Carlo, the Rocca and the fantastic scenery of the lakeside.
Hours
From May to September, from 10.30 to 20.00
Prices
Adults € 5
Children under 10 € 3
Groups: Adults € 4 - Children € 2
Tickets on board.