Event

Tetralogia della polvere

from 23 April 2012 till 03 June 2012
Novara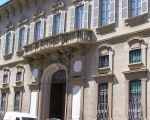 Tetralogia della polvere (Tetralogy of the powder) is the name of an interesting work of enviromental art which will be host in Novara from 23rd April until 3rd June 2012.
Casa Bossi becomes the scene where the artist gives a masterly reading of space and its monumental evidence hidden.
Admission: free contribution.
Opening hours
From 23rd to 27th April: 3 pm - 7 pm;
Until 3rd June, Wednesday / Friday: 3pm - 7 pm and Saturday / Sunday: 11am - 7 pm.
Reservation is required.

Contact
ATL of the Province of Novara
E-mail:
Web:
http://www.turismonovara.it
Tel.: +39 0321 394059