News

Tulip Week 2012
From 15 to 25 April at Villa Taranto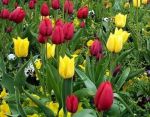 With the start of the new season, the wonderful Villa Taranto English Garden, created by Captain Neil Mc Eacharn in 1931, offers a classic event: Tulip week.
In Verbania Pallanza, along the cycle path that joins the lake town to the centre of Intra, you can find the imposing entrance gates to the Villa Taranto Botanical Gardens, and from 15th to 25th April 2012, with the show dedicated to tulips, visitors have one additional reason to enjoy one of Europe's most beautiful gardens.
In this period the park is an explosion of colours, thanks to over 80,000 bulbs in bloom, among which the absolute protagonist is, of course, the tulip, offering 65 planted varieties. Among these is the highly sought after black tulip Queen of the Night and the imposing Big Chief with a coral diameter of almost 10 centimetres. The event started in the 1950. It was Captain Neil Mc Eacharn himself that wanted this event to take place. The initiative is famous on a continental scale and annually attracts thousands of visitors to Lake Maggiore.

Contact
Villa Taranto
E-mail:
Web:
http://www.villataranto.it