Event

Orridi di Uriezzo Tour

from 09 April 2012
Premia - Croveo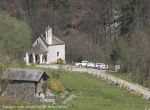 Monday 9th April 2012 in the Antigorio Valley there will be a tour, organized by the Nature Guides of the Valley, from Premia to Croveo.
This is an occasion to discover the wonders of a place which is full of history and charm.
Meeting point: parking of Centro Visite in Crodo at 9.30 am
Lunch box required.
Contact
AccompagNatur
Web: