Event

Free Paragliding Day

from 06 May 2012
Mottarone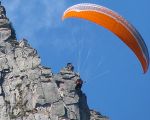 The A.S.D. NorthWestParagliding Association, based in Baveno (VB), organizes the Free Paragliding Day which will be held on Mottarone Mount on 6th May 2012.
In the morning, with the help of multimedia material, the school staff will present the Paragliding Flight; in the afternoon, under the supervision of experienced pilots, participants can view the equipment, ask all the relevant information and make a practical test.
Among the participants will be extract two tandem flights which, weather permitting, will be made ​​at the end of the day on Mottarone Mount.

Reservation required.

Contact
A.S.D. NorthWestParagliding
E-mail:
Web:
http://www.northwestparagliding.it