News

Locarno Camellias
15th edition from 28 March to 1 April 2012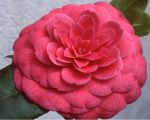 For the fifteenth consecutive year, Locarno, the famous Swiss town on Lake Maggiore, hosts "Locarno Camelie", one of the major international exhibitions dedicated to camellia, a festival that attracts specialists and enthusiasts from all over the world.
The Locarno event is distinguished from similar events for its size and for the wide variety of plants and flowers on display.
Besides the exhibition, the pavilion also houses a refreshment stand, next to a series of educational and informative events.
There will also be the Concert of Camellias, which will be held in the beautiful New Church in Locarno. The appointment with the chamber music is for Saturday, March 31.
The exhibition will remain open during the following hours: Wednesday - Sunday from 9.30 am to 6 pm.
Contact
Lake Maggiore Tourist Office
Web:
Tel.: +41 91 791 00 91