Holiday Package

Stay in Ascona for the Jazz Festival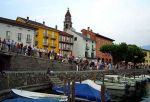 Jazz will set the rhythm for the hundreds of concerts, celebrations in the square and exhibitions that will be held in the little Swiss town.
1st Day: arrive in Ghiffa, settle in the 4-star hotel. The hotel is right by the lake and has a beautiful swimming pool and a mooring point for motorboats. Dinner and overnight stay.
2nd Day: outing to the Borromean Islands. You will reach Intra by car. Ferries for the small islands that made the gulf famous depart from here. The scheduled visits are: Isola Madre and its unique English garden, Isola Pescatori (where a traditional lunch will be waiting for you), Isola Bella with its Baroque palace and the Italian garden. The return to the hotel and departure for Ascona are scheduled for late in the afternoon. There is a magical atmosphere on the lakefront of the little Swiss town. Jazz groups from all over the world meet and hold evening concerts that fill your heart with joy. We highly recommend attending this event!!! (price of ticket at the entrance: about 12 Euro)
3rd Day: today you can relax by the pool in the hotel. We recommend dining in the Lido Beach of Baveno, a restaurant with lounge music, built on the beach. There is dancing after the meal, the perfect way to continue enjoying the music and celebrations...
4th Day: after a good breakfast you will leave the lake.

Included services
3 BB nights in a 4-star hotel in Ghiffa a double room with a balcony
1 dinner in the hotel (3-course meal, drinks not included
Unlimited pass for ferries in the Borromean Gulf
Lunch in a restaurant on the island (3-course meal, drinks not included)
Optional services
Entry tickets to the islands, isola Madre and Isola Bella are not included
Price
Starting from Euro 331,00 per person
Lenght 4 days
Min. participants 2 people
Period
From June 20th to July 1st 2012