News

Lake Maggiore on Facebook and Twitter
Follow us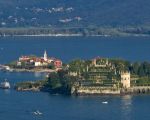 From today Lake Maggiore tourist destination is also on Facebook and Twitter!

On the official Facebook page and on Twitter profile we talk about cultural events, music, cinema, concerts, theatre, sport and about several offers to spend free time or holidays in this beautiful area.
Even our website has changed in order to give you the opportunity to share with your friends news and events in a simple click!
Visit us on Facebook and Twitter, we wait you with much useful information, but also with stunning photographs and evocative video.

Official Facebook Page: www.facebook.com/illagomaggiore
Twitter: lm_valli_fiori

Contact
Official Tourism Gateway Lake Maggiore
E-mail:
Web:
http://www.illagomaggiore.com/en_US/home
Facebook Page
Web:
http://www.facebook.com/illagomaggiore
Twitter Profile
Web:
https://twitter.com/#!/lm_valli_fiori