Holiday Package

Stories of ghosts and treasures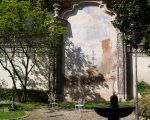 In order to discover artistic and architectural beautiful noble mansions in the territory around Novara, the itinerary initiates with the visit to the Galliate Castle, which pertained in old times to the Visconti-Sforza families.
It is one of the most important monuments in the territory because of the beautiful architecture and its impressive unified construction. Numerous historical facts are united to this castle and the fantastic legends, which create a fascinating surrounding of mystery around it, recall the stories of treasures and ghosts in the history of the monument. These stories will be told to you and hushed secretly inside the walls of the castle.
The pause for lunch is made in the Sillavengo Castle, with its beautiful ly arranged garden and its parlor with long tables and its characteristic delicate cuisine emphasizes parts of history which remain hidden under its high roof. We recommend the rice and lemon traditional plate "Risotto al Limone" cooked following an ancient recipe.
A cultural moment with Paolo Nissotti, traditionalist from Novara, is expected after lunch. He will delight us with enchanting stories of daily life in ancient times, and remarks in Novara's dialect. The visit to the Solaroli Castle of Briona will end our itinerary. It raises with shy majesty on a secondary road of the province. This castle is private property, non big but with fascinating structure and one of the most characteristic of the site, placed in a high location with respect to the surrounding plains.
Departure: Galliate
Stages of the itinerary: Briona, Sillavengo, Oleggio Castello
Duration of the trip: one day

Included services
Group guide
Entrance to the museum and guided visit
Guided visit to the Briona Castle
Lunch in the Sillavengo Castle: first course, second course, dessert and coffee
Letterary Entertainment in local dialect
Insurance
Optional services
Other services can be requested as eventual transportation
Price
€ 40.00 per person during the year 2012 (for groups)
Validity
2012