Event

Spring Camellia Exhibition

from 28 March 2015 till 29 March 2015
Verbania and Cannero Riviera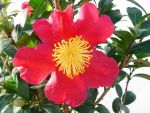 Every year the arrival of spring is celebrated with the Spring Camellia Exhibition, with its display of the rarest and loveliest examples of the flower which adorns the lake area at this time of the year.
The exhibition, scheduled for Saturday 28 and Sunday 29, March 2015 – will be held in the beautiful setting of Villa Giulia in Verbania Pallanza, and in Cannero Riviera.
The Lake Maggiore area is at the forefront of specialised camellia growing in Europe, with a huge range of hundreds of varieties, displaying a wide selection of colours, sizes and types of flower.
As always you can buy the most beautiful floral species of camellias on sale at the exhibition stalls.
Complimentary 89th Tour of Italy, which will stop in Verbania on May 28, 2015, growers of Lake Maggiore have selected as the protagonist of this edition of the pink camellia.
Contact
lago Maggiore Fiori
Web: