News

Animated crib in Ornavasso
Until 6th January 2012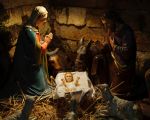 Until 6th January 2012 in the town of Ornavasso there is an exhibition of nativity scenes, come from all over the world, and the biggest animated crib of Piedmont.
The Church of the Madonna della Guardia, recently restored, will frame the valuable exposure.
At the centre of the sanctuary we can admire the stunning crib, created by Giuseppe Loda, with its 100 square feet of animated nativity.
Admission is free.
Contact
Municipality of Ornavasso
Web: