Event

"Caravaggio, frammenti di luce": free admission

from 27 November 2011 till 18 March 2012
Domodossola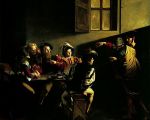 The entrance to the exhibition "Caravaggio, frammenti di luce", which will be open from 27th November 2011 to 18th March 2012, is free.
An additional contribution has enabled the organizers to assure everyone the opportunity to visit the exhibition without paying the entrance ticket. This is a further initiative to allow an increasing number of people of all ages, from children to adults, to participate in this important cultural event.
The exhibition is held at the Fondazione A. Rosmini in Domodossola.
Open hours
Friday, Saturday, Sunday: 8.30 am - 1 pm and 2 pm - 6 pm
Tuesday, Wednesday, Thursday by reservation for groups
Monday: closed
Contact
Fondazione A. Rosmini
Web: