News

Montagna & dintorni 2011
In Vogogna from 15 to 30 October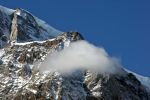 The seventh edition of "Montagna & dintorni" (Mountain & surrounding area) is scheduled from 15th to 30th October 2011 in Vogogna.
Montagna & dintorni will propose many events, in order to understand the future of mountains: after being a place of production and survival, now mountain is becoming a place of recreation, often in the service of the city.
The programme of Montagna & dintorni 2011 will be very rich: many meetings and conferences at the Visconti Castle in Vogogna, projection of the best films of the Trento Film Festival 2011 and Melescorto Film Festival, concerts and sports activities for children.
The detailed programme is on the website www.montagnaedintorni.net
Contact
Montagna & dintorni
Web: