Event

Autumn with Girolago

from 09 October 2011
Legro (Orta)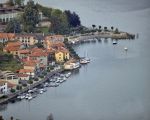 The 2011 edition of Girolago is scheduled on Sunday 9th October. Girolago is a new way to explore the area of Lake Orta, starting from the network of paths that has developed over the centuries: footpaths, mule tracks and roads.
Girolago propose pedestrian or bicycle routes.
The meeting is scheduled at 8.30 am in Legro (Orta), where we will leave at 9.00 am. The arrival in Legro is scheduled for 5 pm.
Length: 15 km
Difficulty: medium
Children and teenagers: 10 €
Adults: 20 €
20% discount for Friends of Eco Museum of Lake Orta
Registration required by Thursday 29th September 2011. The excursion will not be postponed in case of bad weather. To see the complete programme, visit the website of the Eco Museum.

Contact
EcoMuseum of Lake Orta and Mottarone
E-mail:
Web:
http://www.lagodorta.net
Tel.: +39 0323 89622