Event

"Parole da Gustare"

from 16 September 2011 till 16 December 2011
Oleggio Castello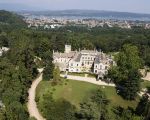 "Parole da Gustare" (Words to Taste) is the name of the review of appointments that the Public Library of Oleggio Castello organizes until December 2011.
The calendar of scheduled events:
16th September at 4.30 pm: Francesca D'Amato and Visconti's Dragons - Stories for children;
14th October at 8.45 pm: Giacomo Fiori with proverbs of Lake Maggiore area;
21st October at 8.45 pm: Gnaro Mondinelli with high altitude mountaineering;
11th November at 8.45: Gabriella Papania and recipes from the lake to the hill;
25th November at 8.45: Francesco Tavano and Living without pain;
16th December at 8.45: Juliana Pedroli Piras tells about India, a journey between mysticism and reality.
All meetings will be held in the Town Hall. The only exception is the meeting programmed on Friday 21st October, which will be held at the Pro Loco of Oleggio Castello.
After each meeting there will be the opportunity to "taste" in a different way the topic of the evening...
Contact
Public Library of Oleggio Castello
E-mail: