Event

1, 10, 100 swallows at the Brabbia Marsh Nature Reserve

from 10 September 2011
Inarzo (VA)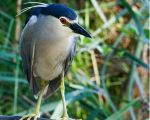 In autumn thousands of birds pass through the Brabbia Marsh Nature Reserve during their long journey to Africa and most of them stay for few days in the reserve.
"1, 10, 100 swallows" is, therefore, a special occasion to see swallows and many other species of birds, without using binoculars!
At the end of the visit a cocktail will be offered to all participants.
Reservation required.
Entrance:
€ 5 adults
€ 3 children
Contact
Riserva Naturale e Oasi LIPU Palude Brabbia
E-mail:
Web:
http://www.lipu.varese.it/brabbia
Tel.: +39 0332 964028