Event

Tastings and music in Villa Taranto

from 11 September 2011
Verbania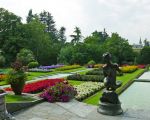 Sunday 11th September 2011 in the Botanical Gardens of Villa Taranto there will be a food and wine festival with tastings of local produce, in order to promote the excellence of our area.
There will also be an art exposition and music that will cheer up the walk.
In case of bad weather the event will not take place.
Contact
Ente Giardini Botanici Villa Taranto
Web: