Event

Enjoy wilderness

Events for kids in the Val Grande National Park

from 08 August 2011 till 26 August 2011
Val Grande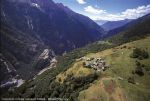 "Enjoy wilderness" is the slogan chosen by the Val Grande National Park to present the initiatives planned in the month of August 2011 for kids from 6 to 16 years old.
Enjoy wilderness is an opportunity to live a good experience in the nature of the park, accompanied by experienced guides and a valuable group of animators.
Until 26th August, children have access to free activities, excursions and open air laboratories, in order to to explore the Val Grande.
Dates: weeks from 8th to 12th August and from 22nd to 26th August 2011.
All activities are free.
For information: +39 0323 468506.
More details are available on www.parcovalgrande.it
Contact
Val Grande National Park
Web:
Tel.: +39 0323 468506