News

Swimming event in the Varese Province
"Uniti nella bracciata"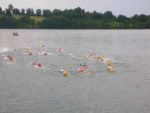 Cadrezzate, a little town located in the province of Varese on Monate Lake, will host the fourth edition of "Uniti nella bracciata" (together in the stroke), the amateur swimming event scheduled for Sunday 25th September 2011.
The meeting at the beach of Cadrezzate Monate is set at 8.30 am. Registrations begin at 9 am, while the departure is scheduled for 11.30 am.

Maximum time: one hour and 15 minutes
Total length: 1,200 meters
Registration deadline: 22nd September 2011
Registration fee: € 15 + € 4.20 for insurance
For all information visit the event website.

Contact
Uniti nella Bracciata
E-mail:
Tel.: +39 338 2382594
Fax.: +39 0331 1814335